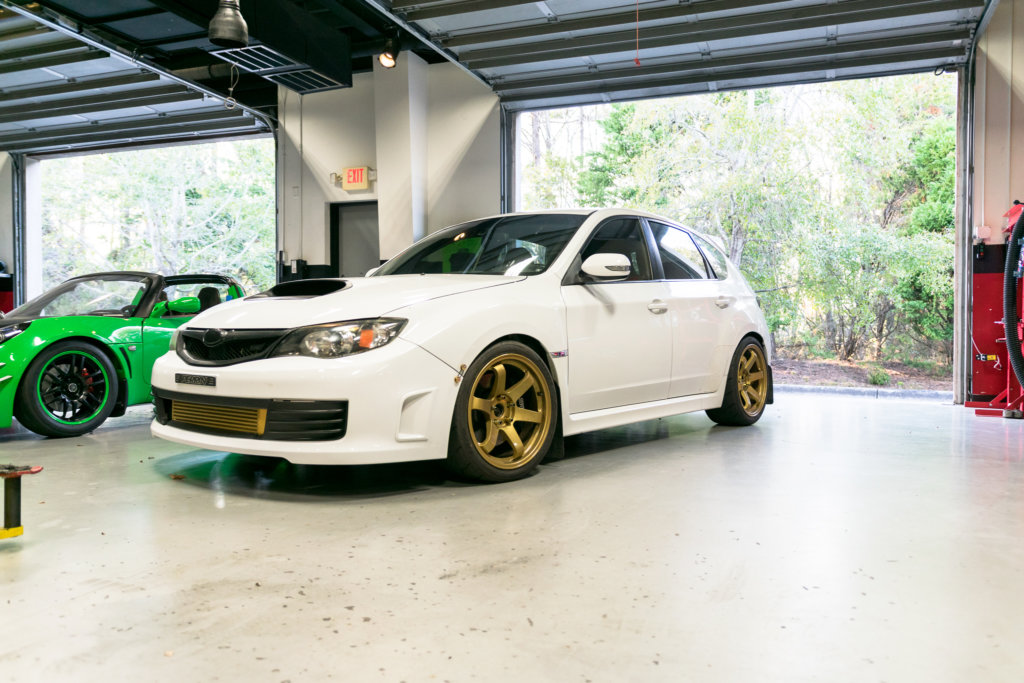 One of the best parts of being in the automotive community and building cars is seeing the different evolutions and phases of builds through the years. Victor White's Subaru STI is a great example of this.
Victor came to us with his 2008 Subaru STI ready for the next phase of its life, going from a built motor to an insane IAG Tuff Stage 4 Short Block with Stage 5 heads with a big Precision 6870 Turbo.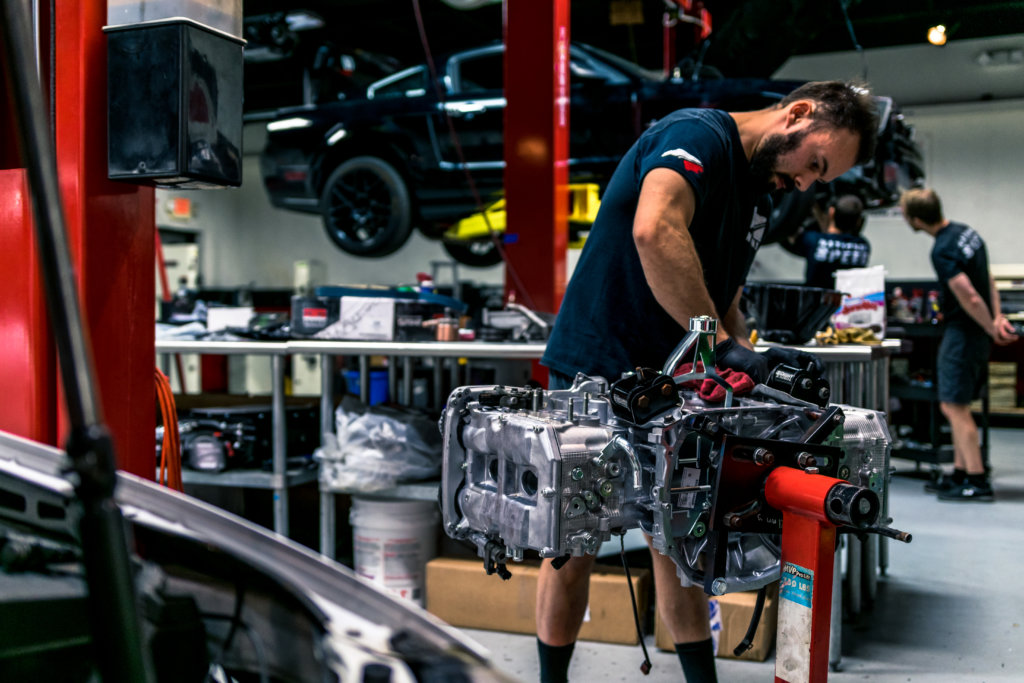 We were as excited as Victor was for this next phase of his GR STI, so we pulled it in and got to work! First things first, out went the old built motor, ready for it's next life in a new chassis, and we started getting the bay ready for the new IAG Performance Short Block. Topping off the motor is a Process West intake manifold alongside the massive 6870 Turbo from Precision Turbo and 44m waste gates from TiAL.
As we assembled the block, we couldn't help but admire how great it looked. There's something about engine components that strike the eye just right.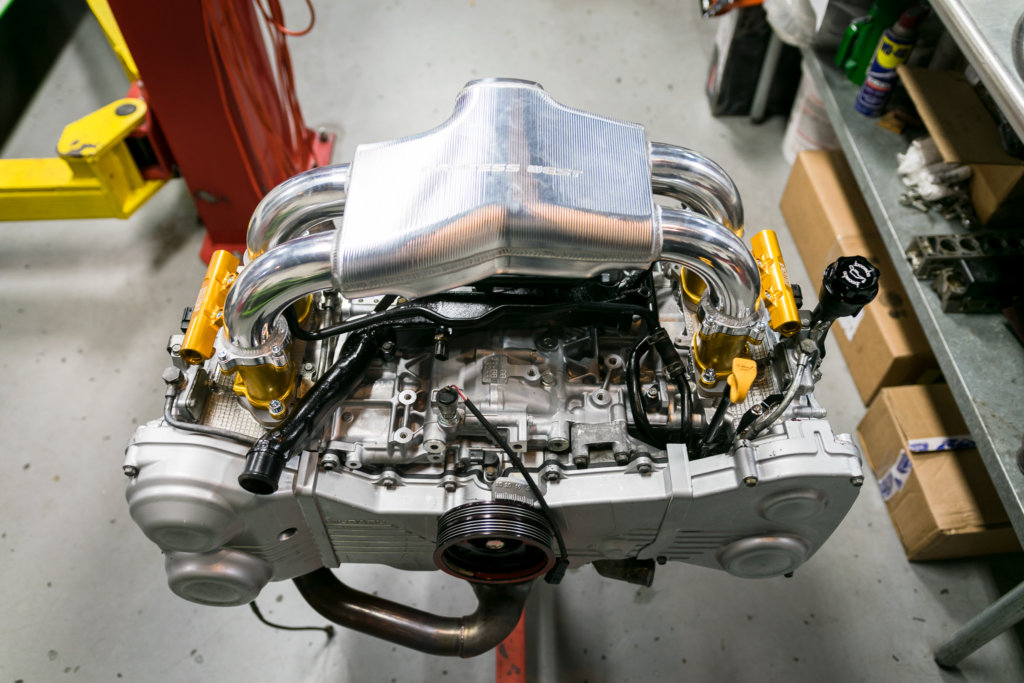 Even with as good as it looked, Victor wanted to take the aesthetics to the next level. To match his gold wheels and set off the engine bay, the IAG Fuel Rails and top feed TGV housings were anodized gold.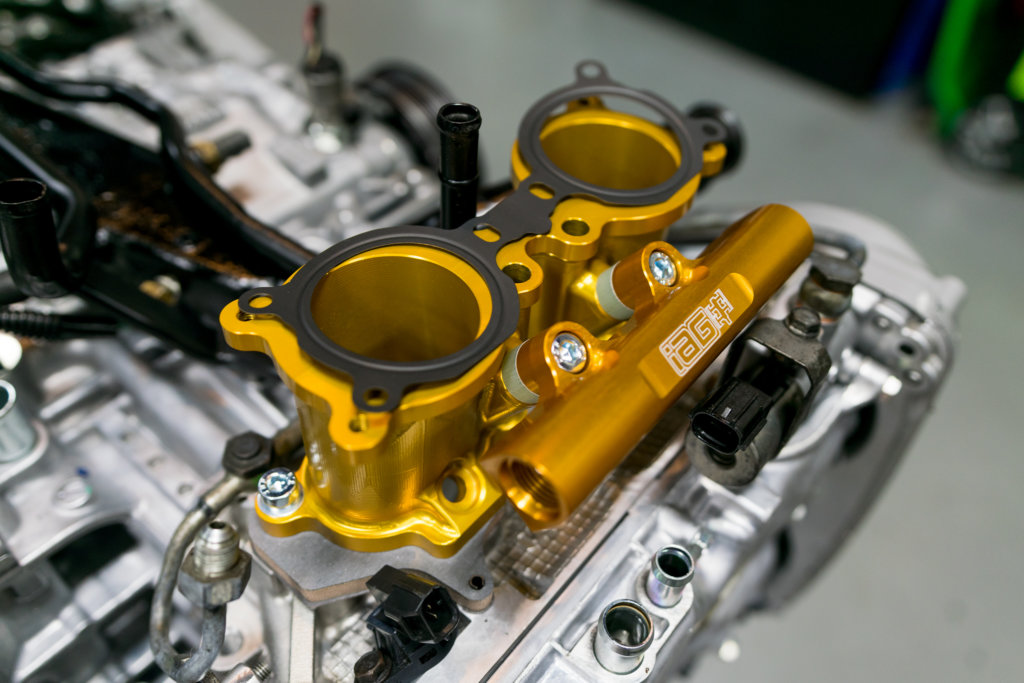 To fuel this golden powerplant, twin Walbro 450lph fuel pumps were installed and run with a COBB tuning flex fuel kit in order to make the most of the E85 compatibility and potential power gains.

With big power Subaru builds like this, the factory top mounted intercooler just doesn't get the air needed to keep the engine cool and in proper boost, so we tapped the team at Extreme Turbo Systems for a front mount intercooler kit, powdercoated gold to match the rest of the accent pieces.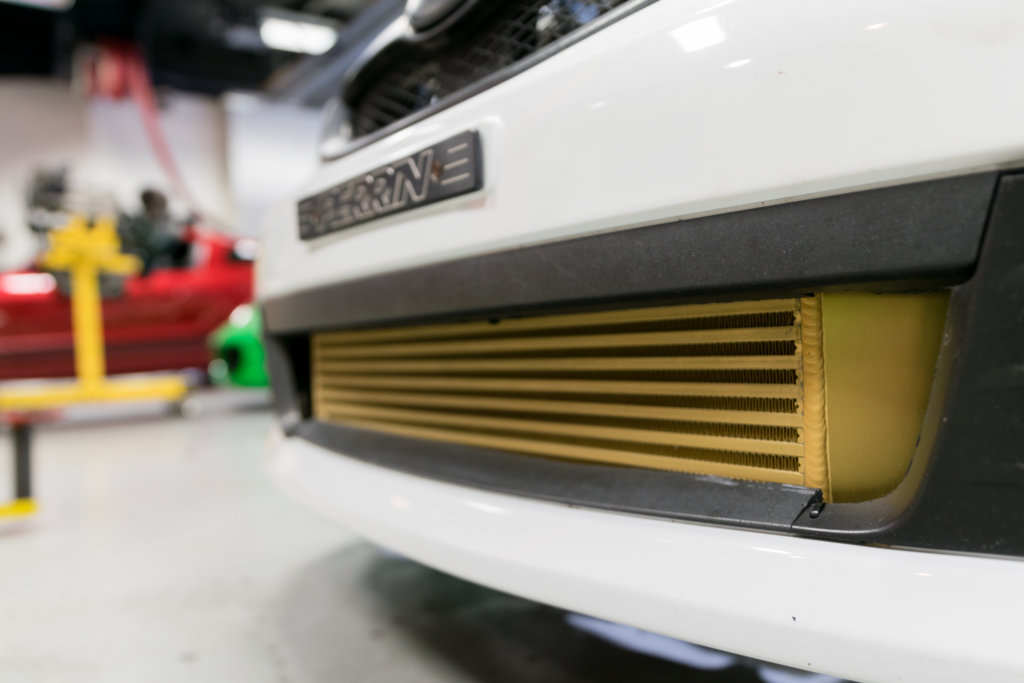 Sometimes, custom builds require custom work, and that's where our custom fabricating team comes in handy! Our Performance Technician, Alex, got to work fabricating everything needed to finish up the build, from a custom fabricated coolant reservoir to fuel lines and turbo piping. With Alex's custom work and some fittings from Vibrant Performance, Fragola Performance, and Radium Engineering, the motor was ready to go!
With the motor buttoned up, turbo piped up, and intercooler mounted in the front, it was time to move on to supporting the boosted bomb under the hood.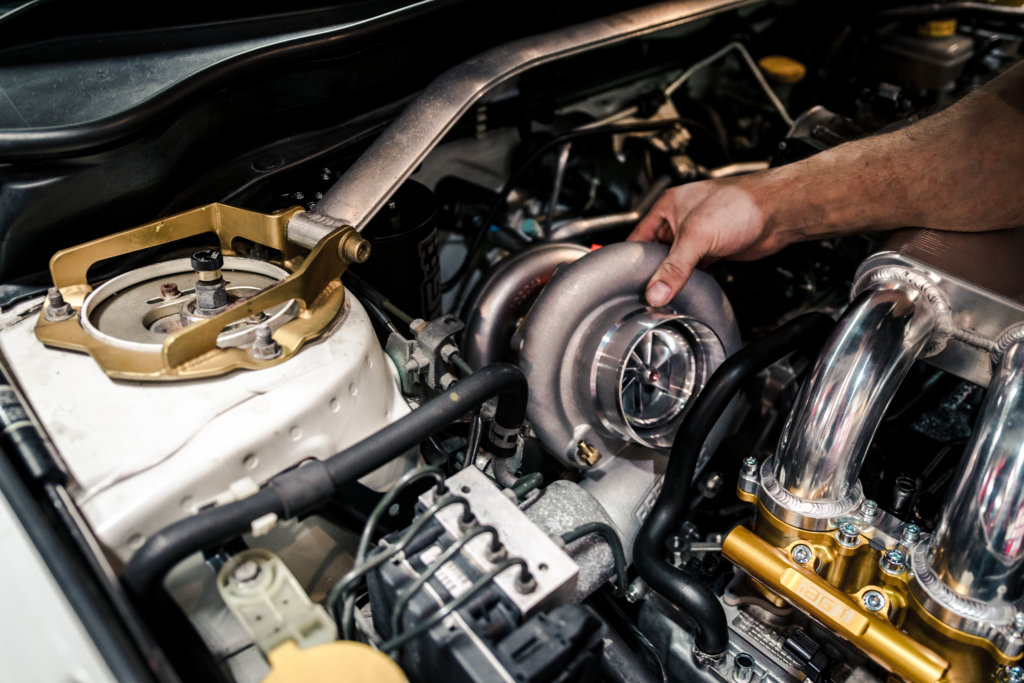 To help the transmission handle the boost in power, we installed chromoly billet transfer gears along with a triple disk competition clutch and flywheel from IAG Performance. DSS Axles were also installed to help put the power down to all four wheels.
Keeping the build functional and just as good as stopping as going, the brakes were swapped out for EBS Brakes GD Rotors and Yellow Stuff Pads. Running to each corner are stainless steel brake lines from StopTech.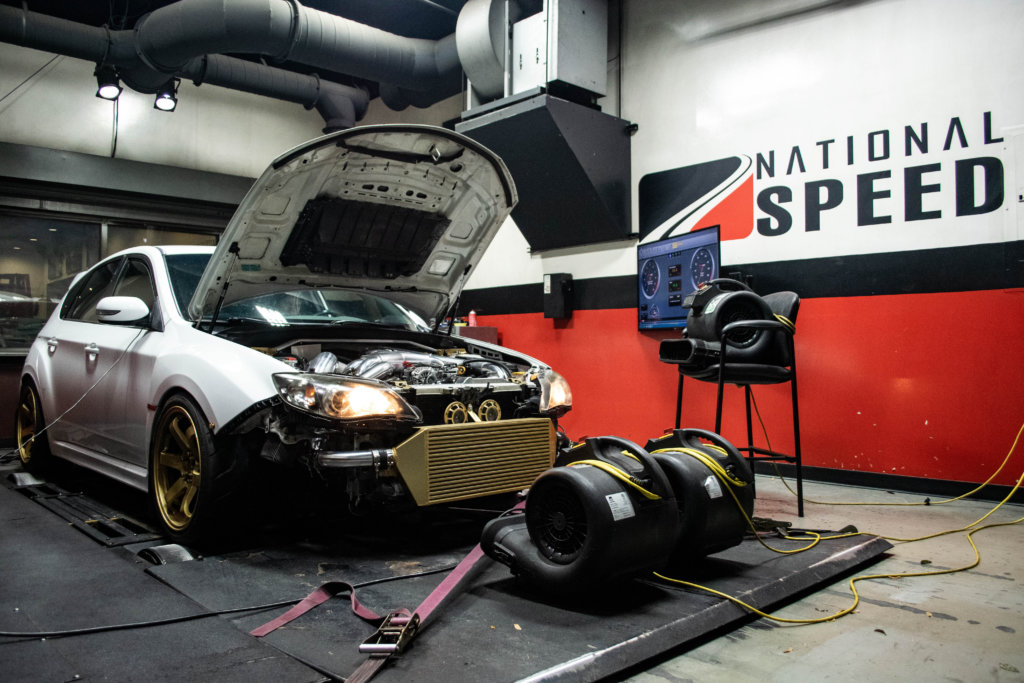 With the build all set, the only thing left was to get tuning. We strapped the STI on the rollers and let it rip!
After working the COBB Accessport and laying down an impressive 816whp and 669lb/ft of torque on E85, Victor's STI was reborn into its new phase of life, as an absolute monster!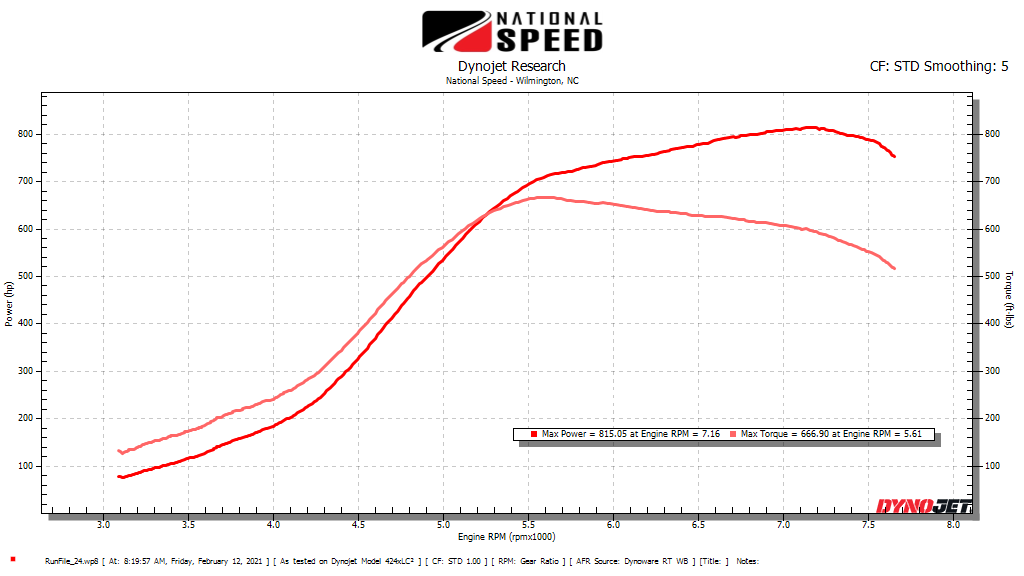 We love being able to help other enthusiasts make their performance dreams a reality, and Victor's build was another great example of that! We can't wait to see what else he has in store for his STI hatch.
Parts List:
IAG STAGE 4 TUFF EJ25 SUBARU CLOSED DECK SHORT BLOCK FOR WRX, STI, LEGACY GT, FORESTER XT
IAG Performance Competition Triple Disk Clutch and Flywheel
IAG Billet Transfer Gears
Precision Turbo 6870 Turbocharger
StopTech stainless steel brake lines
OEM subaru baskets and components
LFR7AIX Spark Plugs
ARP 2000 Series Head Studs
EBC Brakes GD Rotors and Yellow Stuff Pads
Twin Walbro 450lph fuel pump - E85 compatible
Gold Anodized IAG cnc top feed tgv housings
Gold Anodized IAG Fuel Rails
Gold Anodized Extreme Turbo Systems Front Mount Intercooler
TiAL 44mm Waste gate valves (black)
Cobb Flex Fuel kit,ethanol content sensor, fuel pressure sensor kit,
ATI Performance Super Damper Crank Pulley
Fragola hoses & PTFE fittings
Vibrant Performance Aluminum Vbands and fittings.
For a closer look at this build, take a look at the gallery below.