Gear and Tech | News : May 13, 2021
Over the past 5 years, Mopar has been flipping the script on what is expected from an OEM giant. With a lineup of multiple 500+hp cars, trucks, and SUVs and even more awe-inducing trims within each model, the power potential from the new generation of HEMI's cannot be overlooked.
But we're enthusiasts, we couldn't leave a car stock if we had to. It's just not the way we function. So the question arises, which modifications should you do first and which are the best or most productive modifications?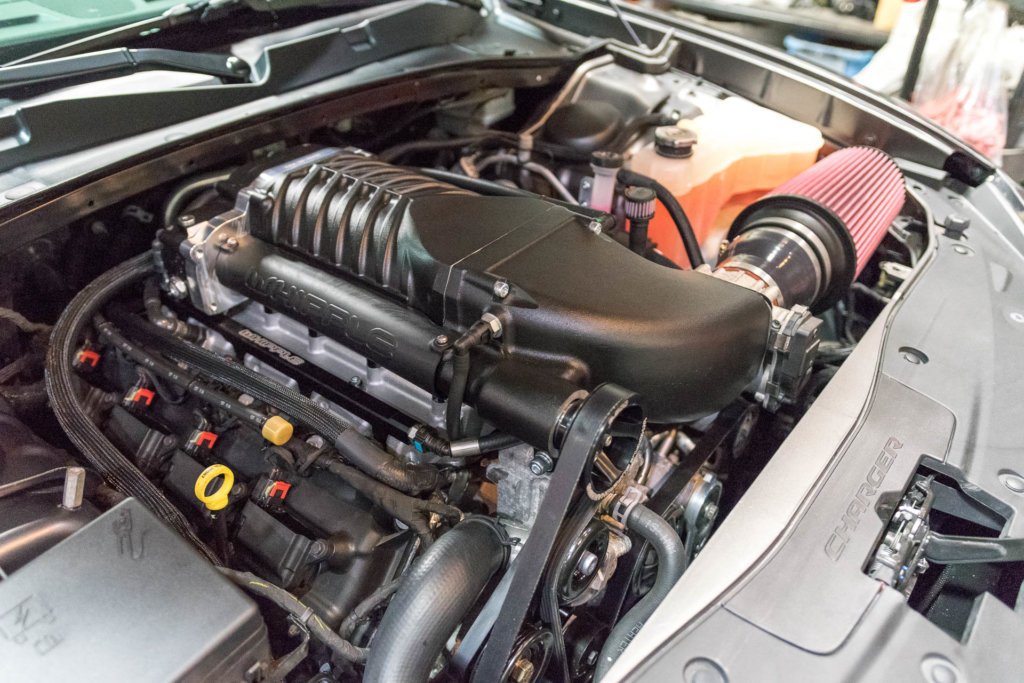 Through all of our Mopar projects over the years, we've been able to identify the common denominators between the best performing setups in the industry and find out how we can give our customers this performance. That's why we now offer our National Speed Staged Packages, to help take some of the guesswork out of the build process. Each Staged Package will help to take a stock vehicle to the next level with a methodical approach to the most common vehicle limitations. The following Top 5 mods can be found in one or more of the staged packages and it is up to you which package to shoot for, based on your performance goals.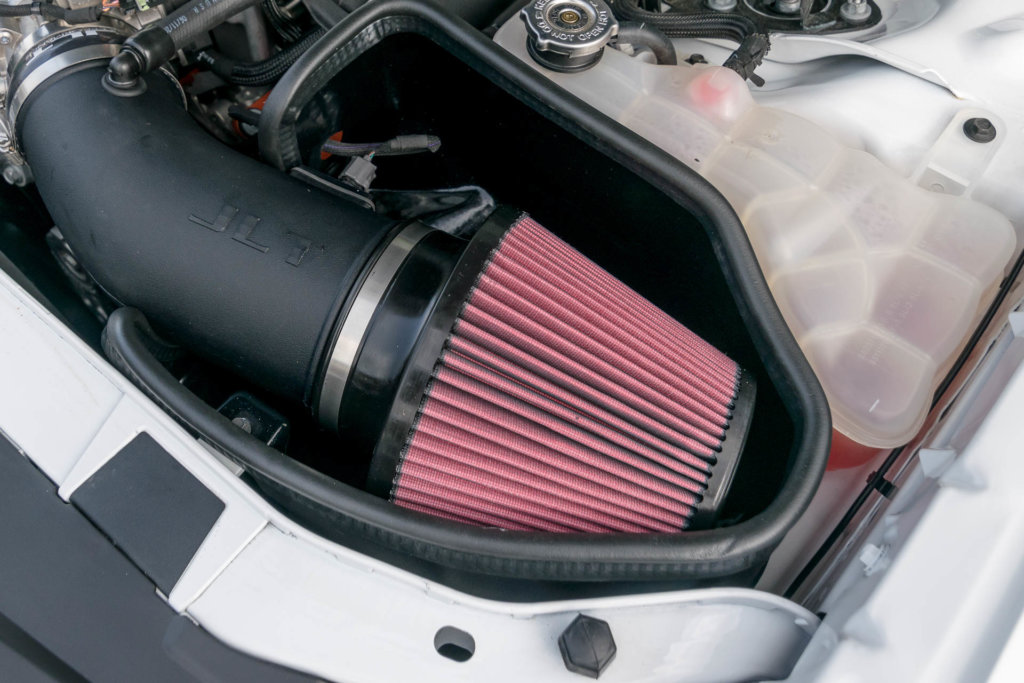 JLT Performance Cold Air Intake
There's few things more renowned as the essential first modification than the Cold Air Intake, or CAI for short. It is one of the first upgrades we do on most vehicles to help build a solid foundation for other performance modifications. A CAI intake prevents hot air from entering the engine and allows more air flow. The result: more air, more oxygen, and more power to the wheels! Not only is performance improved, but it changes the way the vehicle sounds, adding an audible "whoosh" as the throttle is depressed and released.
A good CAI must have big openings for airflow with little restriction via airboxes, resonators, and other components, and most importantly must be in a prime location for grabbing cool air from outside the engine bay. For a long time, manufacturers have been locating the air filter below the car which is great for airflow but can cause serious hydrolock issues in the wet. There's a million cold air intakes out there, but we've done the research to isolate a product that does everything we need it to with an excellent build quality.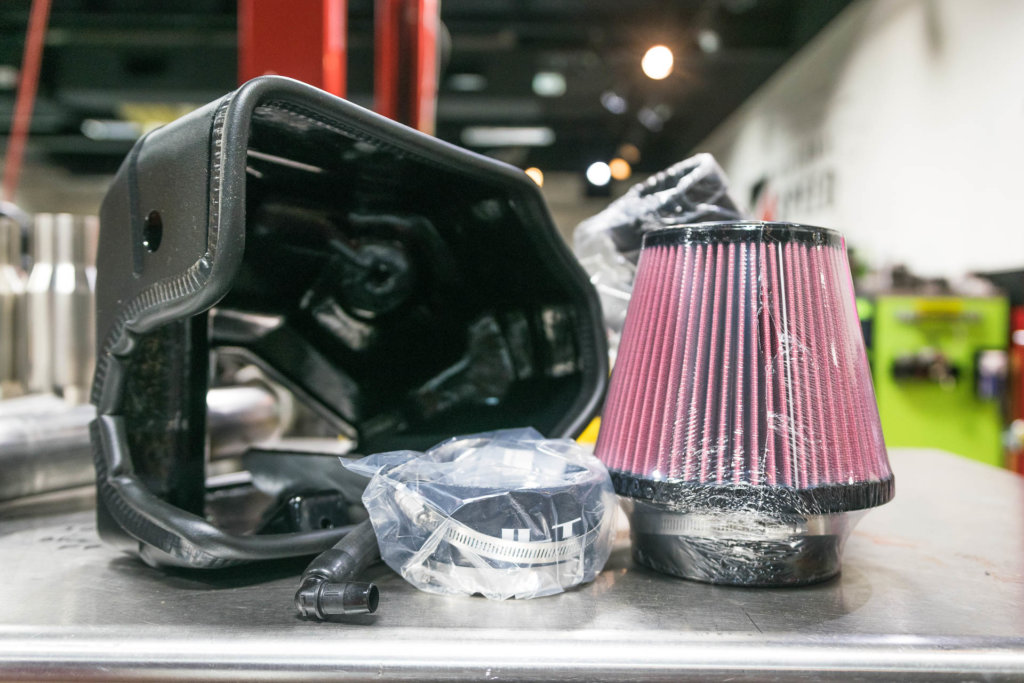 The team over at JLT Performance knows exactly how to design an excellent CAI. With incredible build quality and even better performance, we rely on JLT Performance intakes for the majority of our Mopar projects. The kit includes a fully roto-molded airbox with an opening in the front to grab fresh air from the grille/headlight area and also seals to the hood. This key component really makes the difference when it comes to efficiency and a well put together kit. The intake tube is also roto-molded plastic instead of metal to avoid heat soak, with a huge 5" filer opening for incredible airflow. With a mouth of 4" at the throttle body end, it is ready for any larger throttle bodies that may come in the future.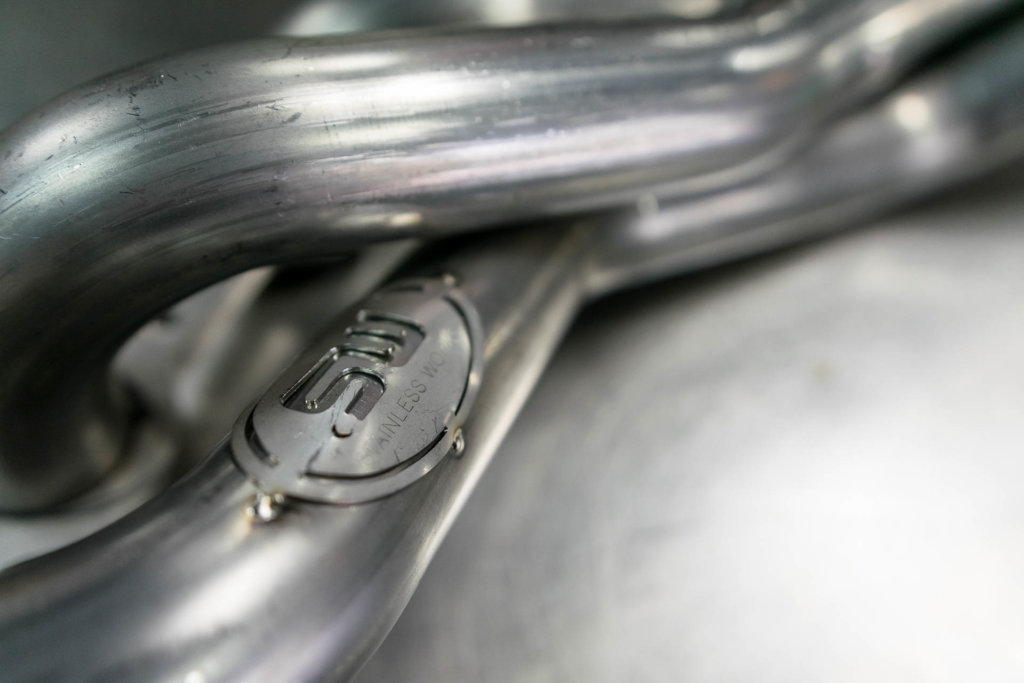 Stainless Works Long Tube Headers
One of the biggest themes of building a car for performance is the continued emphasis on airflow, from the intake to the exhaust, most specifically long tube headers, and our choice has always been Stainless Works.
Built from corrosion resistant 304 stainless steel, these headers are fabricated for strength and durability right in Streetsboro, Ohio. We can't help but give a little extra love when something quality is made in America!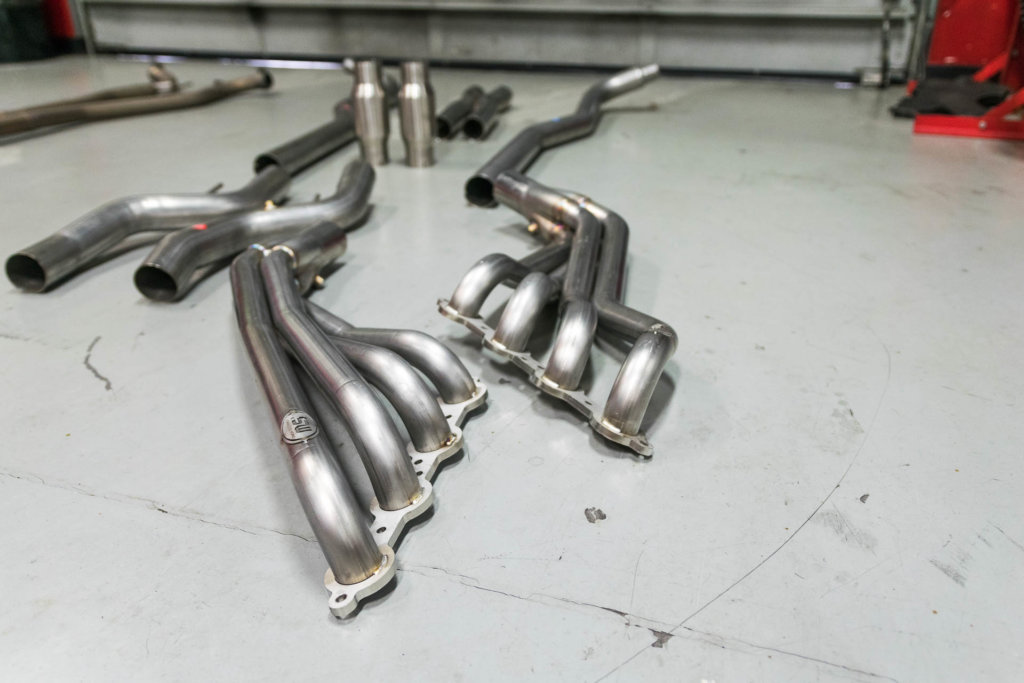 These headers come in 1-7/8" Or 2" primary tubes, which can help with clearance and fitment for those tight fits. We really like these headers for Mopars due to the smooth mandrel bends that really do a lot to optimize exhaust flow from the drivetrain. The build quality is always A1 as well with fully TIG welded for strength and beauty. These headers really do represent the idea of "show and go."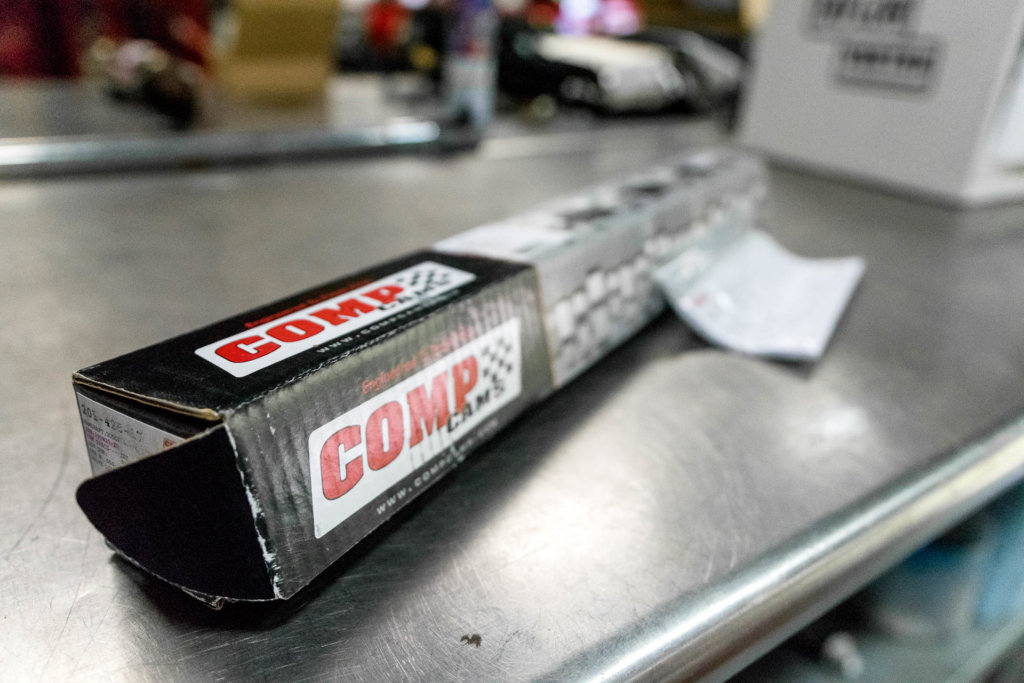 Camshafts are one of those parts in the automotive community that gets everyone speaking in a different language, with conversations about life, duration, lobe size, overlap and more. It's one of the areas that really separate the casual car guys from the tech-minded folks. There are a million custom houses and manufacturers that make cams for all sorts of applications, but after 15 years of building cars, we know the quality and performance expected from a camshaft from COMP Cams.
We swear by the COMP Cams Stage-2 HRT 273 camshaft for 5.7L and COMP Cams Stage-2 HRT 275 camshaft for 6.4L. The included kit has everything needed and these cam packages can add +82 HP on average. We also see the best average torque & power of any sub .600" lift Gen III HEMI cam we've ever used or heard of. With the optimal power range from 2500-6500 RPM, this cam produces prime output throughout the powerband.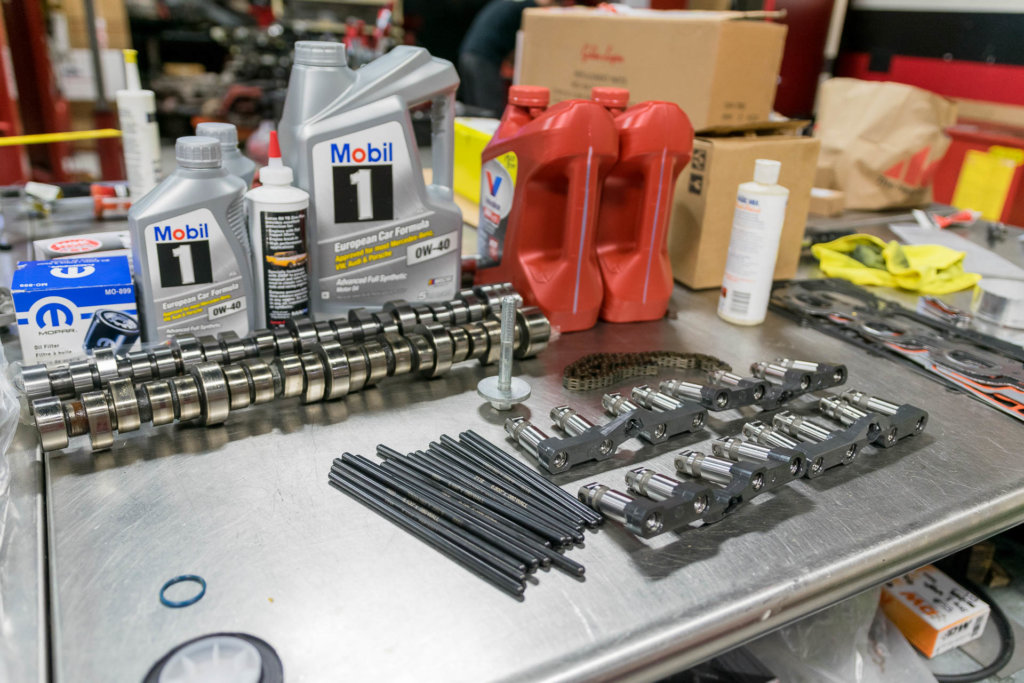 With an illustrious history like COMP Cams, it's hard to find a better option for most builds! We trust COMP because of their race-proven history, building insane power cars and putting them to the test for over 45 years. So many of the best innovations in the automotive industry come from the successes found in racing and COMP Cams is no stranger. This is why we trust COMP Cams for each of our staged package builds.
Cams are a great way to make power but require a large amount of measurements and research to find out which is best for you. Which is one reason why we've started putting together staged packages, as a means of eliminating the guesswork for what works best with your Mopar, regardless of year, make, or model.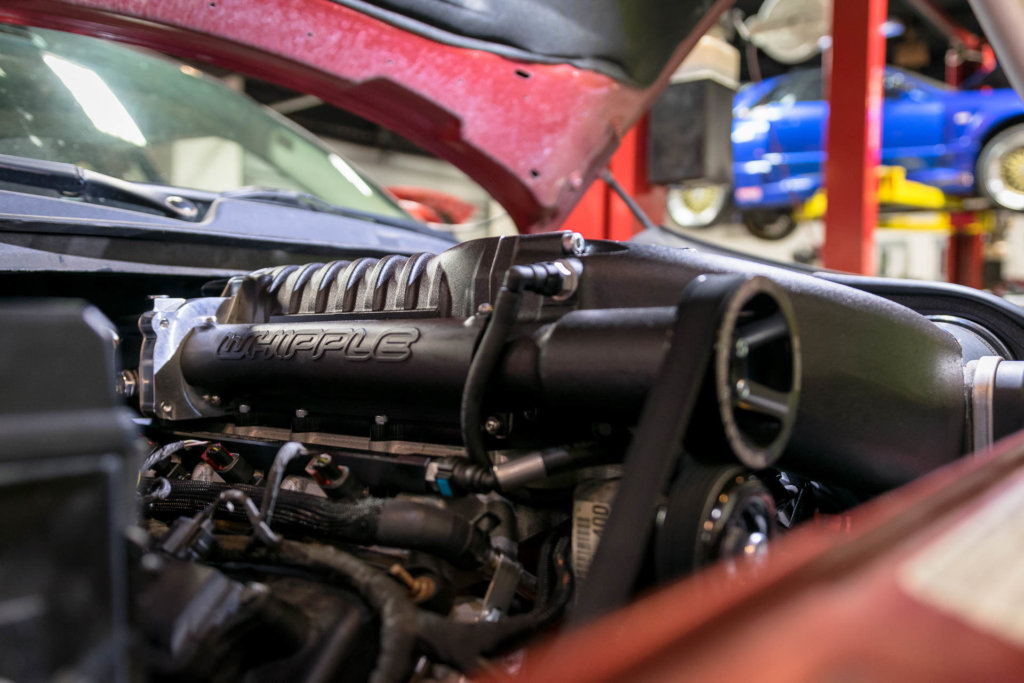 One of the most well-known ways of adding power to your Mopar is by way of a supercharger. There are really two kinds of superchargers, Positive Displacement (Twin Screw & Roots) and Centrifugal. While there may be a ton of confusion out on the internet, to make it simple, the Positive Displacement sits on top of the V-bank and makes that famous whine whereas the Centrifugal sits in the engine bay, similar to the snail-like look of a turbo and makes a massive whoosh at full throttle and let off.
Centrifugal Superchargers are well known through the aftermarket industry with names such as Procharger, Vortech, and Paxton Superchargers. Whereas the major names in positive displacement are Eaton, Magnuson, and Whipple. Positive Displacement Superchargers are more often used by OEMs and have been popular in performance builds for generations. The unmistakable look of the 6.2L Hellcat motor features a 2.4L twin screw supercharger, center stage in the engine bay.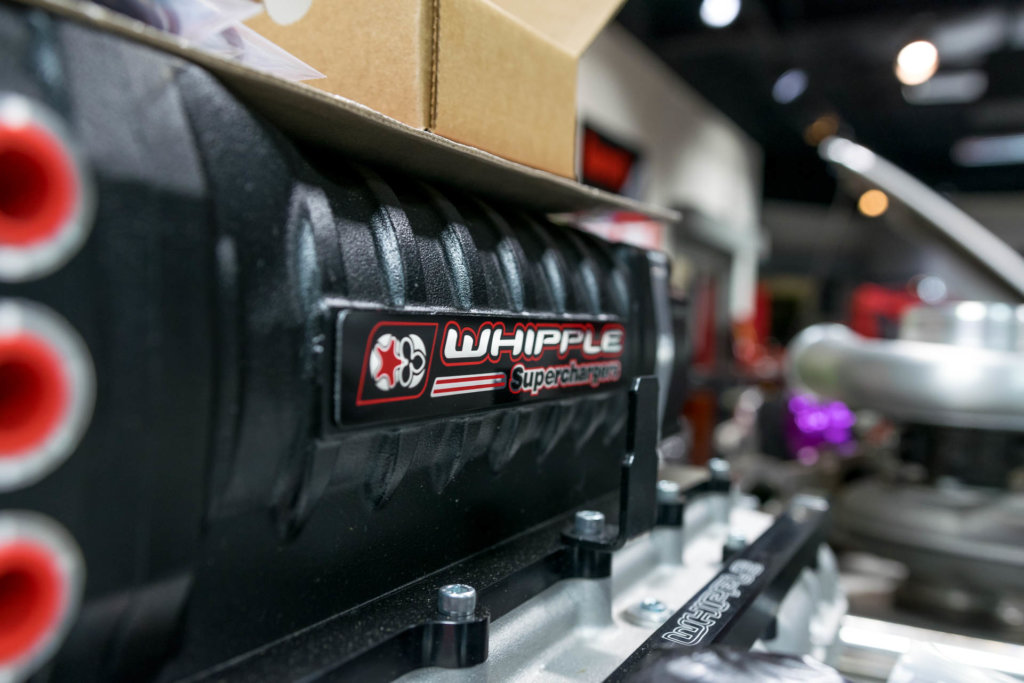 The biggest change in the game came with the introduction of the twin screw supercharger, the more efficient and powerful evolution of the original roots-style supercharger. The main keys here are the design of the rotors inside the supercharger, as early roots-style were improved upon by more efficient rotor design for better boost. With everything in the automotive industry, there is no passing of time without innovation and the leaps and bounds in which manufacturers have progressed with this technology have been inspiring to say the least, and Whipple has been on the leading edge of this innovation.
For our supercharged staged packages, we always recommend a Whipple Supercharger, and with the 2.9L being phased out as we welcome the new 3.0L unit, we can't wait to see the results roll in. From our research and experience, we're expecting gains of 130-160hp for 5.7L and 160-220hp for 6.4L from our Supercharged Packages, featuring the new Whipple Gen 5 3.0L Supercharger!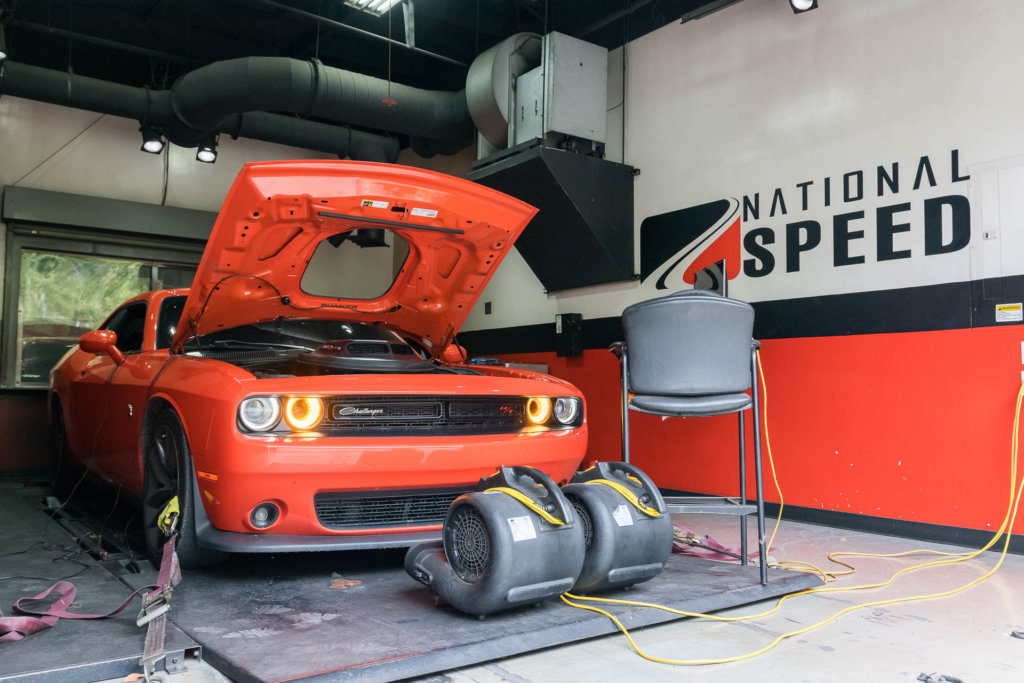 All of these parts we've discussed are important, crucial in fact. However, there's one performance modification that must be made in order to make all the pieces fall together, and that's a calibration.
A calibration, or "tune", is what allows a drivetrain to make more power by changing the coding of the ECU, or in the case of Mopars, the PCM or Powertrain Control Module (another fancy name for an ECU). From the factory, your PCM is set by the Mopar engineers for the optimal performance of the engine under the most general of circumstances, variances in fuel, driving habits, maintenance, and more.
OEMs like Fiat-Chrysler, Mopar's parent company, will always design their cars with the intent of the vehicle lasting for an extended amount of time in order to create a reliable product and owner experience as well as minimize warranty claims. This is mainly because despite the fact that they can never know exactly how the car will be maintained, they still need to ensure reliability.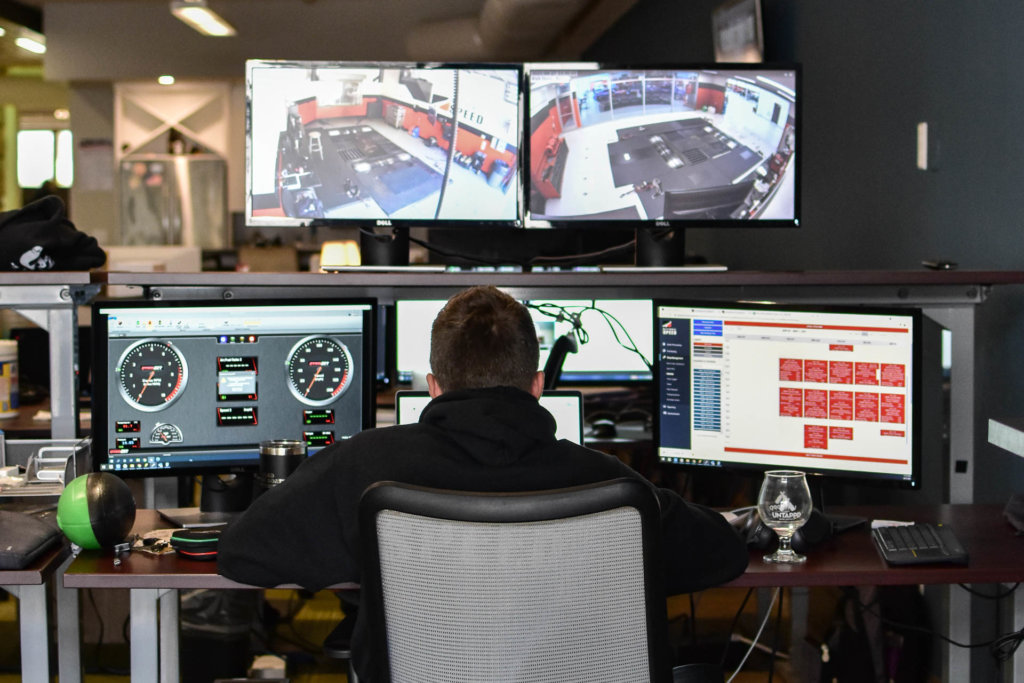 We take this same intent into mind when tuning your Mopar but with a more performance-focused mindset. While we make sure that we tune for and build tolerances into your tune in order to keep the good times rolling, we also make the most of your build set up and the modifications made to your build as you would drive it personally. A truly custom calibration based on your driving habits and performance modifications.
What our custom calibration does is reset the OEM data maps that mark the factory optimized performance of the drivetrain and adjust and remap the air/fuel ratios, ignition and cam timings, and torque management to come together to create an data map that balances the performance of the engine and modifications with the tolerances needed to perform consistently and repeatedly.
Our expert calibration team can understand these complex ratios and maps to tune your Mopar with nearly any software on the market, however, we find the best results by way of a custom calibration via HP Tuners on our Dynojet 424xLC2 dyno for the most minute details of tuning, getting every last ounce of power while making sure that the drivetrain can consistently make that power without issue.
Our tunes are always thoroughly worked through for prime efficiency, reliability, and of course performance! Whereas you might see massive numbers proclaimed by others with the same parts, the tune may be teetering on the edge, which is why we always make sure that we tune your Mopar to make the same power, the same way, everyday without fail.
The world of automotive aftermarket is massive and ever expanding. As Mopar has pushed the boundaries of what a factory car can do over the past five years, so has the aftermarket in order to keep up and always push forward. That's what we love about this community, we're always trying to improve and innovate to do more and have more fun. That's why we're here to help everyone get in on the fun without doing weeks worth of research. We hope this article helped narrow down your choices as you start thinking about building out your HEMI, whether it's a Charger, Challenger, SUV, Truck, or 300c.
Reach out to National Speed to get your Mopar up to speed and check out the gallery below for more Mopar!